Having planned to visit Subud Greece for more than two years we finally managed to meet the group in Athens in their beautiful house in October 2022.
Valentin, Mariam and Alan arrived on Thursday 6th and Friday 7th..We were invited to stay in the marvelous house of the chairlady of Subud Greece and her husband in a little town near Athens. Harina and her husband from Athens joined us on Friday. While we were waiting for everybody to arrive, we enjoyed their hospitality, the lovely garden with lots of animals and the music and on top a great meal in the evening with more members from Athens.
We learned that there are three groups in Greece, one in Corfu with 4 women and 1 man, one in Oropos (a small town 45 minutes' drive from Athens) with 5 women and 1 man and the biggest group in Athens with22 members, 14 women and 8 men.
The meeting took place on Saturday 8th and Sunday 9th in the Subud house in the center of Athens. The house, with its beautiful and welcoming atmosphere, is owned by the group. It has 2 floors and enough space for parallel Latihan which takes place regularly twice a week.
During the whole meeting, 18 members participated with some change in the constellation. There had been 14 women and 4 men of the group. Amongst them there is only one active helper for the men who is also the KC of Greece and four helpers for the women, the lady KC and two group helpers and Harina as IH. Some members live far away and had to drive a long time to come.
We started our meeting sitting together and introducing ourselves, followed by a wonderful deep and lively Latihan and testing.
The women tested awakening tests, how to support the group and how to prepare for the Latihan.
The men also had strong and deep Latihan, awakening testing, personal testing and precious moments of sharing and talking. The feeling of closeness and brotherhood has been all the time natural and strong.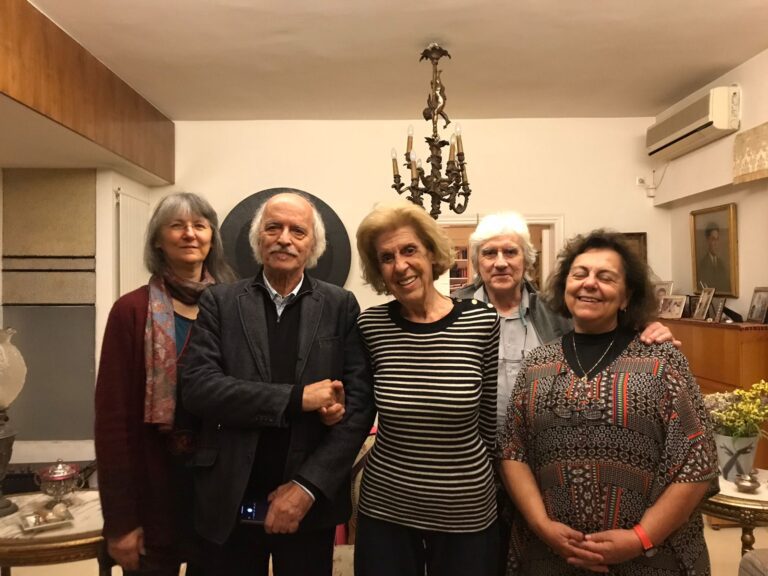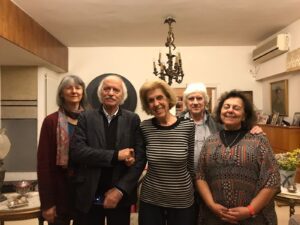 We had a break for lunch and met all together to enjoy the delicious Greek food cooked by the group members! One member, who founded an animal care organization to help street cats, brought her little kittens to the meeting and had to feed and take care of them. What a joy!
After lunch we sat together and shared, wonderfully moderated by the chairlady. One man was worried about the political situation between Turkey and Greece and asked for testing on Sunday. We finished not too late because some had to leave and Harina invited us all in her flat for dinner. We had a happy evening again with great Greek food in a lovely little round.
The second meeting on Sunday started again later in the morning. The chairlady gave us again a ride to Athens and I enjoyed talking to her. Today some other group members arrived, and we had a chat  with a cup of tea .The following Latihan was again very intensive. One member was so touched by her receiving and felt so happy that she didn't want to stay for the following testing. With the other women we tried to complete the test questions which came up on Saturday. We tested about the forces, material, vegetable, animal, human. The KC asked also about complete human force.
The men did some personal testing.
After the Latihan two sisters gave the IH's beautiful handmade gifts. The group also gave us a CD with the music of a famous opera singer and a former group member. This is an impressive realization of a SICA project from group members. We had a fantastic lunch and started talking about different topics. The members discussed about possible changes in their group life, like a regular group meeting every first Sunday of a month (which they already have started) and also arranging meetings to listen together to talks from Bapak and Ibu Rahayu.
The next topic was the coming Subud World Congress in Kalimantan 2024. We IH's shared the plans and options A,B,C as presented by Rusdi Bustillo .The Zone4 Rep had asked all countries in Zone 4 for their input for the upcoming WSA meeting. We decided to test one question: What is the inner meaning of the World Congress in Kalimantan 24. After testing men and women shared their receiving which was close and similar.
When we finished the meeting, a former member came to pick up his daughter and all went out to greet him and to take a photo.
It was such a nice and happy gathering, full of love, in a wonderful familiar atmosphere. We enjoyed the great hospitality and the Greek lifestyle very much. All members where so nice and open. They thanked us a lot for coming and felt very happy about the meeting and our visit and the Latihan. We were looking forward to meeting some of us soon again in the Zone3 and 4 gathering in Assisi two weeks later.
We completed the afternoon with a visit to an old well-known sister in Subud who cannot come to the group anymore. She was very happy to meet with us, showed us the artwork of her son who died some years ago. She gave us her beautiful book as a present. To meet with her was so lively, inspiring and heartwarming.
The chairlady drove us back to her home where we all finished the day sitting in her kitchen together with her husband tasting again the beauty of Greek food. We left on Monday. It happened that some members of the group and three of us IH's were infected by Covid after the visit, but thanks to God Almighty it was a light version and went away quickly so that we all were able to go to Assisi as planned.
We thank Almighty God for the content of this visit and once more we want to thank our Subud Greek family for the time we could spend together and the way they offered to us. A real gift.